Removing the Milfoil
from Moody Pond
Moody Pond is in a very prominent public locale within a mile of downtown Saranac Lake, at the foot of Mt. Baker, the most popular climbing mountain in the McKenzie Mountain Wilderness. In 2018, when Eurasian watermilfoil (EWM) was detected in the pond, residents quickly organized the community  non-profit, Friends of Moody Pond. This aquatic invasive species spreads easily and grows at an alarming rate, forming thick mats of vegetation, and threatening the pond's ecosystem.  It would be a terrible shame to allow the pond to go the way of so many others, clogged with Eurasian watermilfoil all summer, the native plants replaced by invasives, and the varieties and health of the fish changing.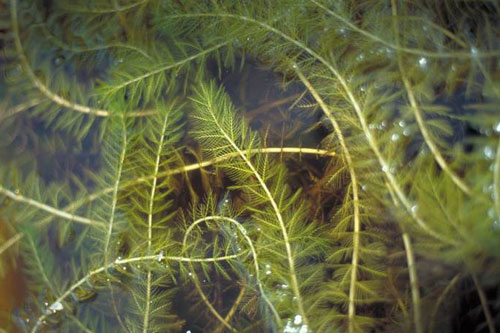 With the strong support of the Saranac Lake community through our Moody Pond Challenge events, we raised the funds necessary to launch the initial phase of control and possibly eradication of this unwelcome and potentially devastating invader.  Working with the Aquatic Invasive Species Coordinator from the Adirondack Park Invasive Plant Program (APIPP), the Friends of Moody Pond established a baseline survey of Moody Pond vegetation prior to EWM removal.  Volunteers were trained in the use of Survey123 software, then assigned GPS coordinates. Armed with dredging rakes and aquascopes, forty separate locations were assessed in June and August with the results directly uploaded to a Lake Management Tracker database.  
In June 2021, a team of divers from Invasive Dive Solutions entered the pond to begin pulling and bagging the unwanted milfoil early in the seasonal growth process. They removed more than 500 pounds of the invasive plant during one week of harvesting. The divers returned for another week in September to reassess and harvest again. We anxiously await the results.
It may be years before full control is obtained, but every year should present us with less milfoil due to the gains of the summer before. Moody Pond is a wonderful community asset with a rich and diverse ecosystem that we all benefit from and the Friends of Moody Pond are determined to preserve it.